Whales Buying The Dip Amid Binance Crackdown By SEC; Analyst Predicts Bitcoin ATH in 2023
The US Securities and Exchange Commission (SEC) lawsuit against the world's largest crypto exchange Binance and CEO Changpeng "CZ" Zhao fails to bring massive liquidations or outflow as expected. Bitcoin price is merely down to $25800 from $26800, while Ethereum price maintains above $1800.
The SEC didn't just bring pullback in the crypto market, but it impacted stock markets too as crypto and bitcoin mining stocks, Coinbase, MicroStrategy, Robinhood Markets, as well as banking stocks were down.
Whales Buying the Dip for Bitcoin All-Time High
The crypto fell sharply after the U.S. SEC sues Binance, with BTC and ETH falling 5%. However, options implied volatility (IV) didn't increase significantly and even fell. Whales have been using billions of dollars of options positions to short both price and volatility in recent weeks.

Whales are using buying the dip returns strategy, same as in the bull market earlier in the year and in the bank credit turmoil.
Popular analyst Credible Crypto said the SEC's Binance suit helped bring BTC price to hit the first target. He predicts Bitcoin price can only fall during forced liquidations, but if Bitcoin reclaims $27.5k we are continuing on the path to new all-time highs.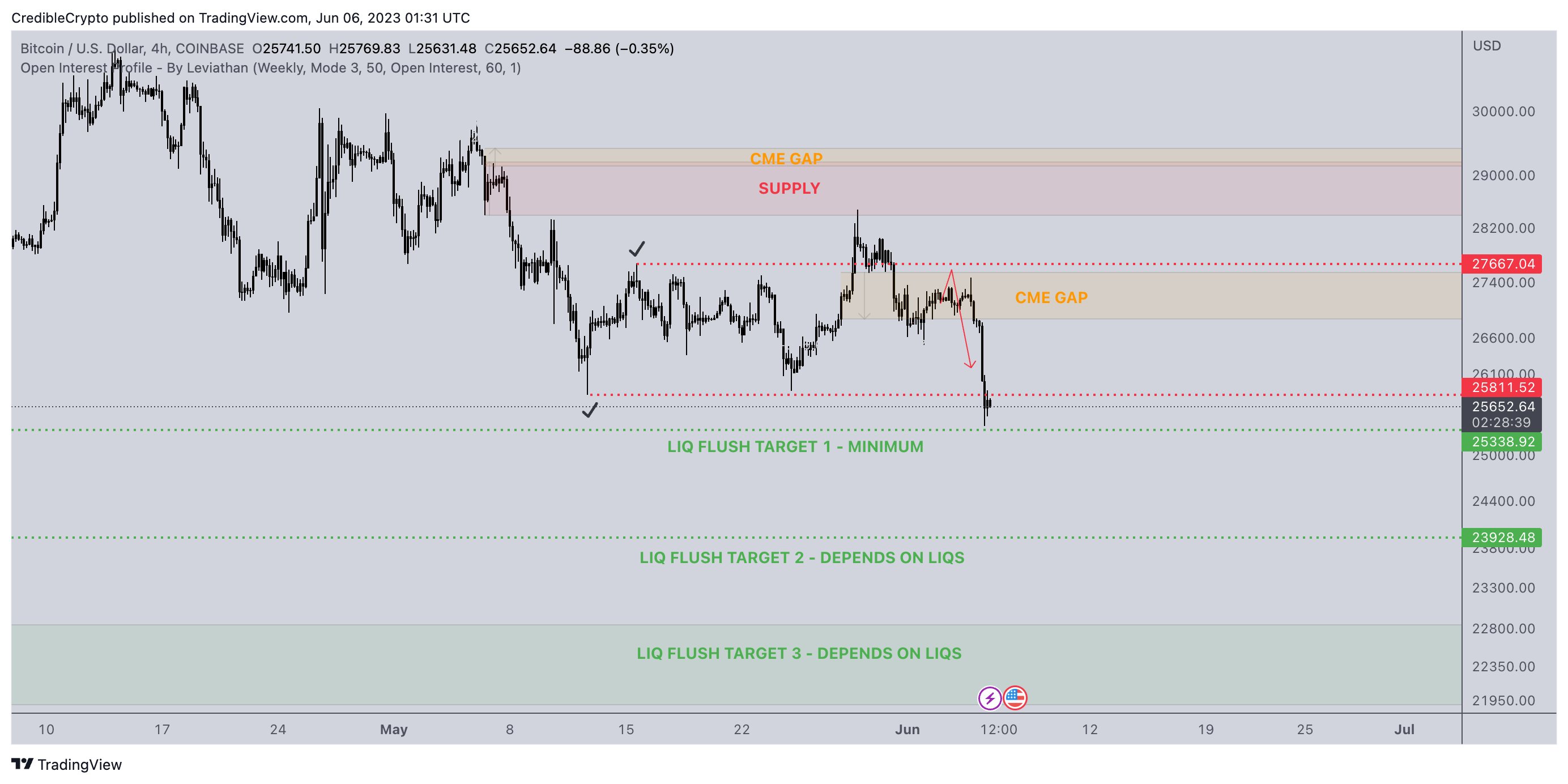 Bitcoin to witness a squeeze up and a bullish reversal. However, more downside will be a bonus for buying the dip. He has started buying spot BTC as hit his target lows at $25.8k. The downside is capped at $20k and Bitcoin is not going lower than that. Whales will look to buy at $25k, with some already starting to buy as the price didn't hit sub $25k.
Also Read: Crypto Telegram Channels List 2023; Updated List
Binance 4-hour chart.

Decent volume spike on the sell off today, but not even the largest selling we have said over the past month and a half.

April 26th and May 10th had more volume.

All things considered, not much #Bitcoin sold today on Binance. pic.twitter.com/wJpfHWfECX

— The Wolf Of All Streets (@scottmelker) June 6, 2023
BTC price currently trades at $25,766, after recovering from a 24-hour low of $25,445. The key support remains at $24,800, but traders will look to push BTC price over the 200-WMA.
ETH price 3% in the last 24 hours, with the price currently trading at $1,814. The 24-hour low and high are $1780 and $1874, respectively.
Also Read: Ethereum Co-Founder Moves 22K ETH To Kraken
The presented content may include the personal opinion of the author and is subject to market condition. Do your market research before investing in cryptocurrencies. The author or the publication does not hold any responsibility for your personal financial loss.