Ripple Exec Responds to Dump Allegations, Claims XRP Moved to NYDIG Custodian
Chris Larsen has responded to XRP holders and other cryptocurrency industry observers that claim a recent $115 million transaction was an effort to dump the cryptocurrency on the market. The Ripple executive chair says the transaction was to the custody provider, NYDIG.
Initially, Larsen faced criticism when word of the transaction spread. However, some met his claim that the almost 500 million XRP is now in custody with further suspicion.
Chris Larsen's Latest $115 Million XRP Transaction Raised a Few Eyebrows
On Sept. 22, the Twitter-based, large cryptocurrency transaction monitoring service Whale Alert (@whale_alert) reported a $115 million XRP transaction. The sender was Ripple executive chair, Chris Larsen, and the recipient was an unknown wallet.
🚨 🚨 🚨 🚨 🚨 🚨 🚨 🚨 🚨 🚨 499,999,979 #XRP (115,847,491 USD) transferred from Chris Larsen to unknown wallet

— Whale Alert (@whale_alert) September 22, 2020
Many of those responding to the above tweet accused Larsen of dumping XRP on the market. As BeInCrypto has reported previously, such allegations are nothing new.
Larsen was quick to respond to those suspecting him of cashing out XRP holdings. Just 16 minutes after the original Whale Alert status, he tweeted that the transaction was between his own wallet and one under the control of the digital asset custody provider, New York Digital Investment Group (NYDIG).
Claiming to have known those behind NYDIG "for a while," Larsen added that they offer top-notch, institutional standard security:
As some of you may have noticed, I moved an $XRP wallet to NYDIG. I've known the founders for a while, and am impressed by their security and top notch institutional standards — this is truly custody 2.0. Check them out at https://t.co/lbr8bG1kEe

— Chris Larsen (@chrislarsensf) September 22, 2020
Not Everyone Buying Larsen's Custody Story
Despite Larsen's apparent openness, not everyone is convinced that the XRP apparently sent to NYDIG won't end up on the market. Cryptocurrency proponent Crypto Bitlord (@Crypto_Bitlord) is among them.
The Twitter user alleges that the transaction to a custodian allows the Ripple executive to sell the XRP without transferring it to an exchange. Indeed, BeInCrypto has previously reported on the sale of cryptocurrencies via NYDIG.
In May 2020, a previously unknown NYDIG Bitcoin (BTC) fund reported to the United States Securities and Exchange Commission the sale of almost $140 million in BTC. That said, NYDIG does also offer the kind of institutional-grade custody of digital assets that Larsen claims to be using.
Larsen has previously been no stranger to controversy regarding his XRP holdings. In October 2019, proponents of the cryptocurrency said the executive received 30 million XRP.
According to Bithomp, both the sending and receiving wallets were activated by Larsen himself with 500 million XRP in 2013. Today, the sending and receiving wallets contain just 35.578 million and 106.684 million XRP respectively.
At the time, Crypto Bitlord appears to have started a campaign to attempt to pressure Ripple to stop dumping its XRP on the market. Others too have been critical of the company on similar grounds:
Imagine PlusToken having the majority of Bitcoin in their wallet, constantly dumping it slowly on HODL'ers.

I've just described Ripple.

…who have just raised $200million for ~2% of their 'business'

— Alistair Milne (@alistairmilne) December 20, 2019
XRP had attracted a loyal following throughout the 2017 bull market. This allowed it briefly overtake Ether (ETH) as the second largest cryptocurrency in September 2018. However, the asset has largely trended downwards since. This has only attracted more community scorn for Ripple each time a new allegation of dumping emerges.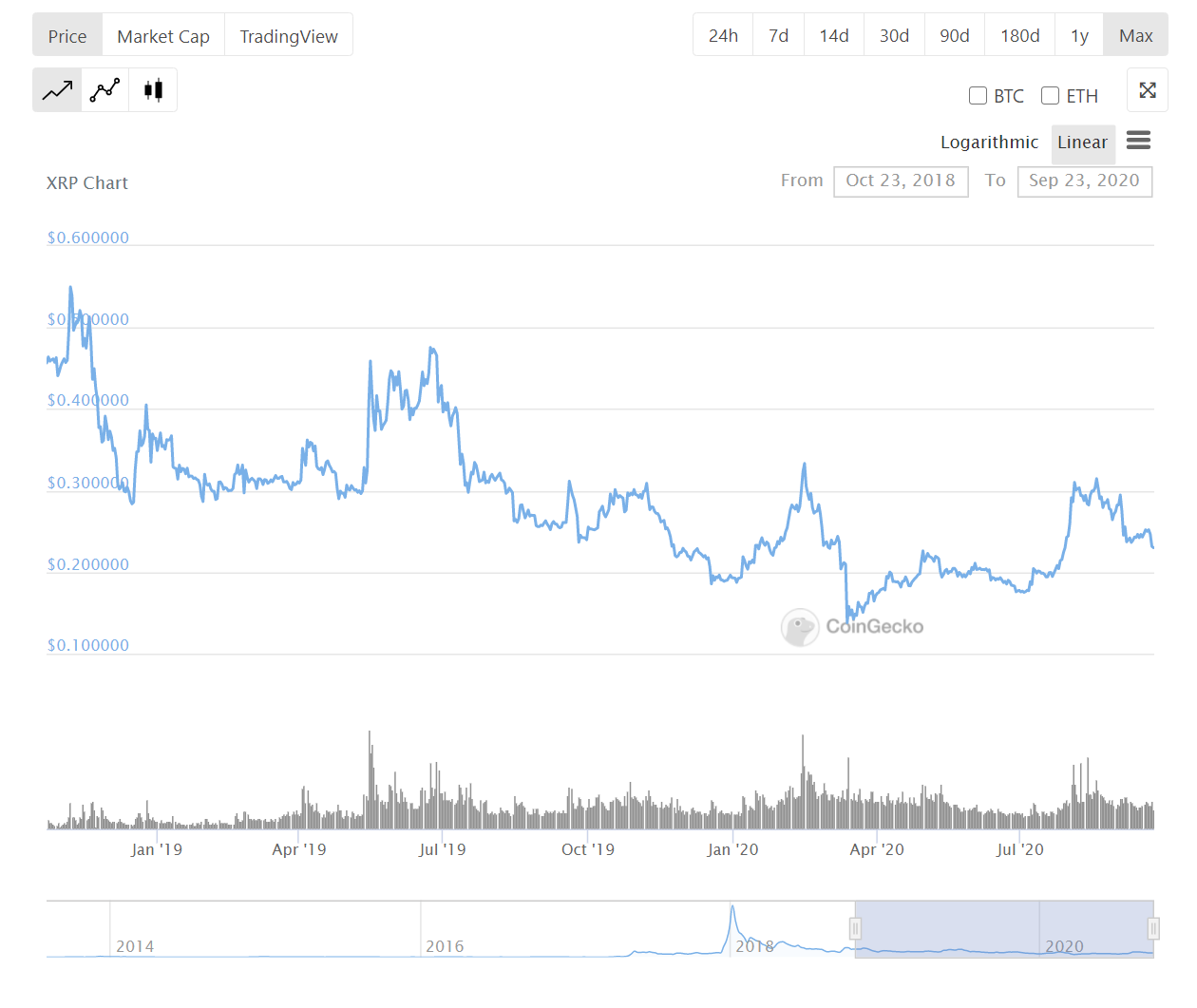 Disclaimer
All the information contained on our website is published in good faith and for general information purposes only. Any action the reader takes upon the information found on our website is strictly at their own risk.