Bitcoin Price To Fall Below $25K In May, Predicts Peter Brandt
Legendary trader Peter Brandt predicts Bitcoin price downfall as volatility and uncertainty rise amid the U.S. debt ceiling dilemma.
The crypto community follows Peter Brandt's updates closely because of his accurate predictions on Bitcoin price. While he remains bullish on Bitcoin hitting $40000, bearish sentiment is rising due to the recent turn of events.
Peter Brandt Predicts Bitcoin Price Fall Amid Debt Ceiling Crisis
Veteran trader Peter Brandt in a tweet on May 22 predicts that Bitcoin price can break below the $26,800 level. After the correction, Bitcoin price will continue to move higher. Earlier, he recommended going long on Bitcoin and predicted a BTC price target of $40,000.
According to his analysis, BTC price risks falling to $24,800. GoinGape Media also reported the same level after on-chain data and technical indicators pointed to an upcoming fall in Bitcoin price. A drawdown in BTC price offers investors to buy the dip.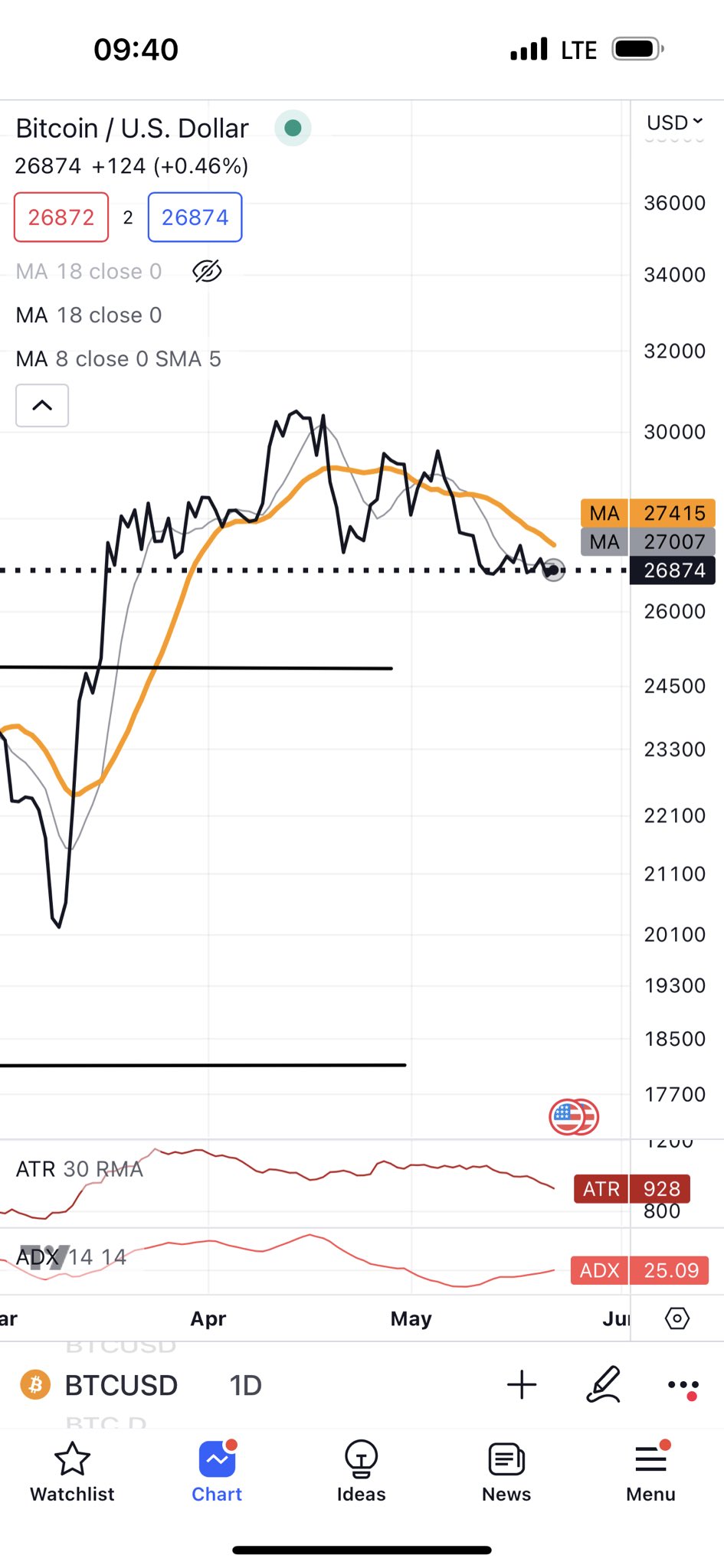 He also added a warning for others who claim to think otherwise and believe there are no downside risks in BTC price currently.
"Perhaps one more shake out break, then thrust higher. But hey, that's just a guess, and guessing is the best we have to offer. If anyone is dogmatic about their brilliance, turn and run, protecting your wallet."
Also Read: MetaMask Developer ConsenSys Clears Air On Terms About Withholding Tax
BTC Price Fall To $25K
The global market set eyes on the US debt ceiling talks as President Joe Biden and Republicans fail to reach common terms in an earlier session. If the US default on its debt the global market could crash by 40% and the crypto market could also feel the shock initially.
However, Bitcoin could rise suddenly as US dollar dominance and treasury bonds will be at risk. The rate hikes and banking crisis will continue to impact the market and investors.
BTC price currently trades at $26883, down 1% in the past 24 hours. The trading volume also fell massively in the last few days.
Also Read: Terra Classic Announces Official Date Of Parity Upgrade, LUNC Set To Hit $1?
The presented content may include the personal opinion of the author and is subject to market condition. Do your market research before investing in cryptocurrencies. The author or the publication does not hold any responsibility for your personal financial loss.