Bitcoin Hashrate Falls Down As Miner Revenues Stay Low
Data shows the Bitcoin mining hashrate has observed a fall during the month of May as miner revenues continue to stay low.
Bitcoin Mining Hashrate Has Declined During The Last Month
According to the latest weekly report from Arcane Research, the growth of the BTC hashrate that has lasted throughout 2022, has stopped in May.
The "mining hashrate" is an indicator that measures the total amount of computing power connected to the Bitcoin blockchain.
A rising value of the metric suggests more mining rigs are coming online as miners are being attracted to the BTC network.
On the other hand, when the value of the hashrate goes down, it means miners have started to disconnect their machines, perhaps because of low or no profitability levels.
Now, here is a chart that shows the trend in the Bitcoin mining hashrate over the last year:
Looks like the value of the indicator has observed some decline in recent weeks | Source: Arcane Research's The Weekly Update - Week 21, 2022
As you can see in the above graph, the Bitcoin mining hashrate had been on a steady climb since the July of 2021.
The bottom back then formed because of China's crackdowns on mining forcing miners to shutdown operations in the country.
Related Reading | Glassnode: Bitcoin Market Behavior Has Now Returned To Strong Accumulation
The rise of the indicator continued through 2022, until the beginning of May. During this month, the metric has rather started going down.
The reason behind this decline is the poor revenue that miners have been facing due to the struggling price of Bitcoin.
The below table shows the data relevant to BTC miners and their revenues.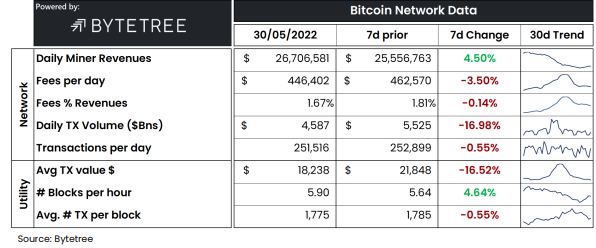 It seems like the transaction fees per day has gone down 4% over the last week | Source: Arcane Research's The Weekly Update - Week 21, 2022
Still, despite the recent decline, the value of the Bitcoin hashrate has increased by 30% over the course of 2022 so far.
This means that competition between miners has become fiercer, leading to fewer rewards for each of them. This, combined with the low BTC prices, has lead to shrinking USD revenues for miners.
Related Reading | Bitcoin Breaks Past $30K As Crypto Market Cap Sees $60-B Inflow In 24 Hours
The report suggests that the decrease in the hashrate is most likely due to the less efficient mining rigs going offline, which were already running close to the break-even level.
BTC Price
At the time of writing, Bitcoin's price floats around $31.7k, up 7% in the past week. The below chart shows the trend in the price of the coin over the last five days.
The price of the crypto seems to have surged up over the last few days | Source: BTCUSD on TradingView
Featured image from Unsplash.com, charts from TradingView.com, Arcane Research