3 relatively small projects to watch in P2E gaming
Play to Earn or P2E is expected to see massive investments in the coming months. In fact, Andreessen Horowitz, one of the leading VC firms in crypto, has set aside over half a billion dollars to invest in P2E. So, why should you even bother with these projects? Here are some reasons:
P2E is going to see a lot of big money flowing in the near term.

New projects are offering P2E, NFTs and metaverse wrapped up together

The industry is new, so there is literally unlimited potential right now.
While there have been successful P2E projects in the past, like Axie Infinity, the three below should be worth keeping an eye on.
League of Kingdoms Arena (LOKA)
League of Kingdoms Arena (LOKA) is a decentralized multiplayer online game that offers an exhilarating experience. Users compete for resources in several tournament battles.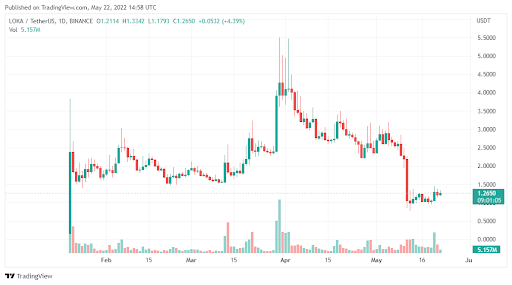 Data Source: TradingView 
You are also able to collect resources across the metaverse, build armies, and see your kingdoms grow. In-game NFTs are also included as part of the game. So far, League of Kingdoms has earned a huge following in recent months and is set to become one of the biggest games out there.
Dreams Quest (DREAMS)
Dreams Quests (DREAMS) is building a robust self-sustaining metaverse economy. The plan is to integrate gaming and social elements into the game with additional DeFi capabilities too. The project is just taking off and is yet to even break $1 million in terms of market cap. There is a lot of possible growth here.
Crypto Blades (SKILL)
Crypto Blades (SKILL) is an innovative metaverse game that allows users to craft NFTs and sell them within the game. Built on the Binance Smart Chain, players can build powerful weapons and tools that can be used to defeat opponents and earn rewards in the process. The project is also at its infancy stage, with a market cap of less than $2 million.